Save the Bees! Did you know that honey bees are responsible for pollinating every third bite of food that you eat? And that they are responsible for $15 billion in U.S. agricultural crops each year? Wow – those little buzzers are really BUSY as….um…bees! Unfortunately, the honey bee population is in danger, posing a serious risk to our food supply (and recently we hear about food shortages througout the world!) What's going on? What to do?
Visit the coolest and most charming site

ever

in the history of the planet to learn more about the honey bee population collapse: Click here to Help the Honey Bees! The site is educational (great for kids!) and fun – you can

pretend you're a bee

and fly around and explore a meadow!

Create your own adorable bee

and email her (see mine below?)! Turn on the sound to listen to a babbling brook, and the birds and the….bees! Too cute! In FACT, Girl Friday went a little

bee-rzerk

on this site and made it her

bee-utiful

screen saver! I'm

bee-lerious! Bee-sotted

by bees!

Bee-witched, Bothered, and Bee-wildered!

Someone stop me – I'm one bee short of a hive! (huh?)

Hagen Daas Ice Cream built the groovy bee site – they use all-natural honey in 40% of their products, and are donating proceeds from sales to fund research into the problem. So you get to help by – you guessed it – eating Hagen Daas! I'm making a bee-line for the freezer! Bee-ware!

More Honey facts you can try and bee-lieve in:

Honey is antiseptic, antibiotic, antifungal, and antibacterial — it never spoils! You can't bee-at that!
Honey is a mild antiseptic and can help to keep external wounds, such as cuts and minor burns, clean and free from infection. By absorbing the moisture around the wound, honey can help to prevent the growth of bacteria.
Wash with raw honey straight from the jar and enjoy sparkling clean skin. Facial blemishes and acne caused by cosmetics or allergies will clear up quickly using a nightly treatment of raw honey. A small amount needed.
Of recent interest is the antioxidant content of honey. Honey contains a variety of flavonoids and phenolic acids which act as antioxidants, scavenging and eliminating free radicals. Generally, darker honeys have higher antioxidant content than lighter honeys.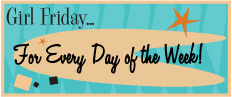 Got Marketing? YES?? Well, you might need MORE!! Girl Friday is a real….Girl Friday!..she does it all, and if she can't do it all, she'll find someone who can! Check out Girl Friday's WordPress website portfolio at: http://wordpressbygirlfriday.com!